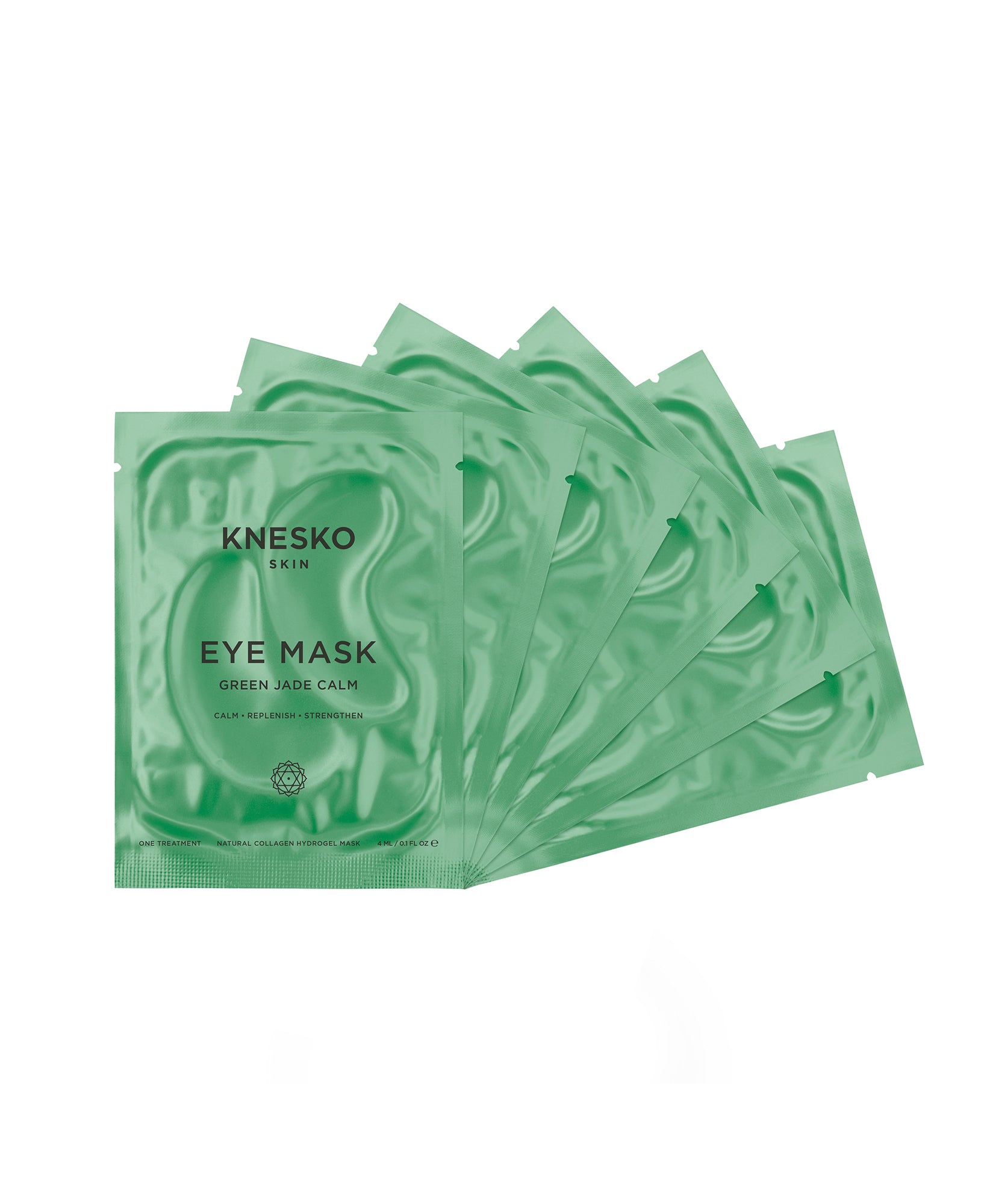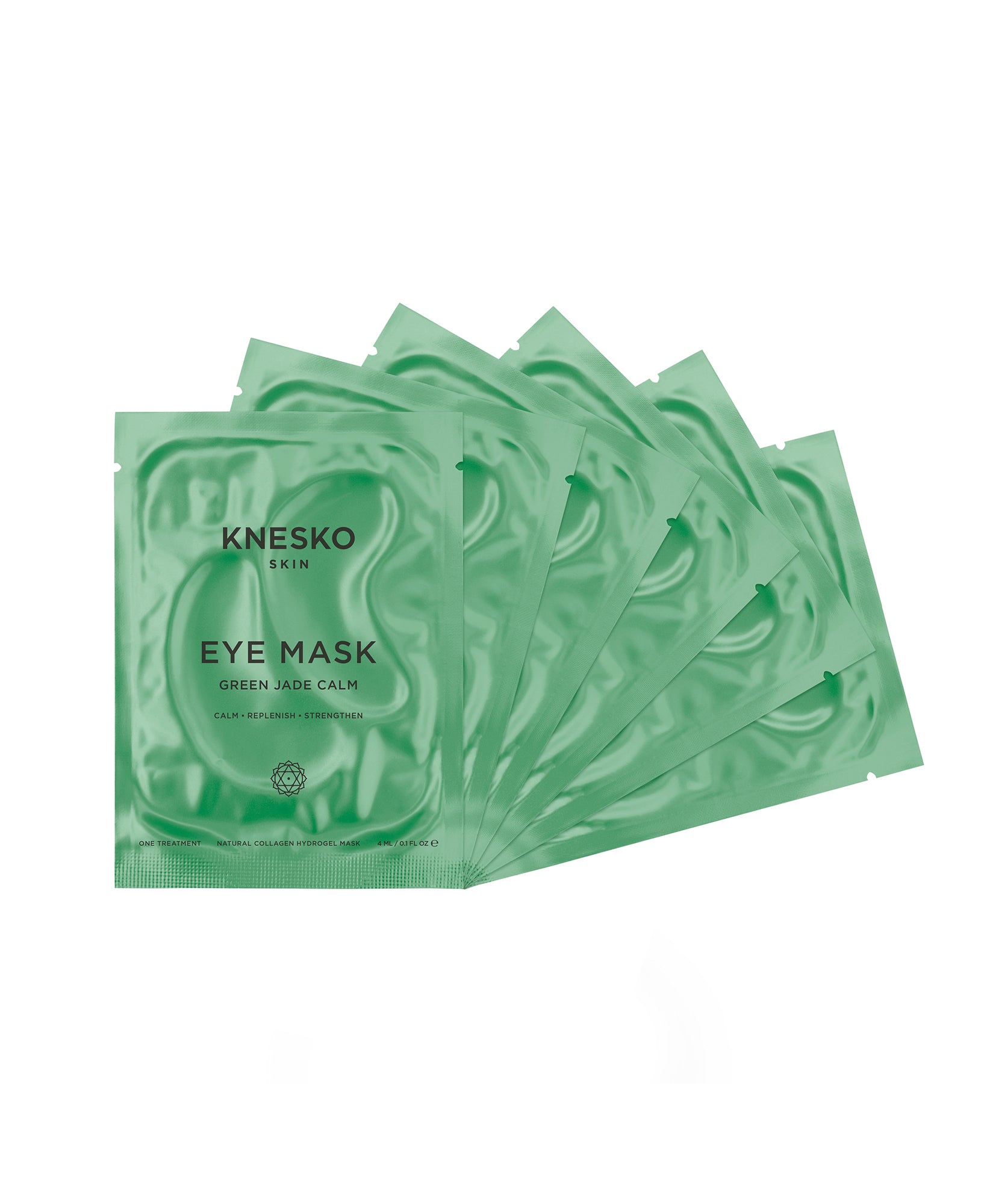 Green Jade Eye Mask
Calm • Replenish • Strengthen
Our Green Jade Calm Collagen Eye Masks work wonders to instantly restore the overworked under-eye area. Filled to the brim with calming, replenishing, and strengthening ingredients, each at-home spa session will help to soothe, depuff, and refresh the delicate skin around the eyes. Symbolizing prosperity and abundance, these restorative masks are a treat for the soul, too. 
Collagen eye masks, calm, green, green jade, calm, replenish, strengthen, dryness, fatigue, dark circles, sensitive skin, calming, replenishing, strengthening, correcting, soothing, age-defying, redness, subscriptions, retail, masks, eye
Regular price
Sale price
$16
Unit price
per
Sale
Sold out
free domestic shipping within the US on orders $70+
30 day returns
earn 425 loyalty points
1 tree planted for each product sold
Product Details

Wishing for restored under-eye skin? Consider the proprietary Calming Complex your good luck charm! The nurturing benefits of Green Jade Powder are combined with calming actives like nutrient-rich Purslane, soothing Seaweed, and protecting Tiger Grass. With the support of other proven ingredients, these masks bring your tired eye area back to life. All masks are crafted using our proprietary

GEMCLINICAL®️ Technology

, which acts as a one-way delivery system to maximize the infusion of the doctor-formulated ingredients and enhance the treatment results. In continued partnership with One Tree Planted, an organization dedicated to reforestation, Knesko will plant one additional tree for each product sold in the Green Jade Calm Collection.
Benefits

Calming | Replenishing | Strengthening | Correcting | Soothing | Hydrating | Age-Defying


Ingredients

Green Jade Powder (Nephrite Powder): Derived from the noble jewel associated with good luck, Green Jade Powder strengthens, soothes, and nurtures skin.
Probiotic (Lactobacillus/Soybean Extract Ferment Filtrate): This replenishing, lab-created Probiotic has a potent soothing effect and works wonders to strengthen skin's defenses against aggressors.
Seaweed (Chondrus Crispus Powder): Abundant in vitamins, minerals, lipids, amino acids, and proteins, Seaweed helps to soothe reactive, acne-prone, and sensitive skin.
Allantoin: A natural compound found in many plants, Allantoin is a powerful moisturizer and supporter of a strong skin barrier—which is effective for reactive, acne-prone skin.
Arginine: Known for its anti-aging effects, Arginine also works wonders to restore moisture and keep skin looking and feeling smooth, firm, and plump.
Sodium Hyaluronate: This soothing, moisturizing extract of hyaluronic acid can penetrate deeply into skin to reduce the appearance of fine lines and wrinkles.
Tiger Grass (Centella Asiatica Extract): Also known as Gotu Kola, this botanical antioxidant protects against environmental and lifestyle stressors and is hydrating and deeply calming—especially after skin flare-ups, chemical peels, or retinol applications.
Purslane (Portulaca Oleracea Extract): Packed with vitamins that resist bacteria, combat viruses, and fight free radicals, Purslane does wonders to support sensitive, reactive skin.
Marshmallow Extract (Althaea Officinalis Root Extract): A go-to ingredient for people with sensitive, easily-irritated skin, Marshmallow Extract restores moisture and soothes redness.
Licorice Extract (Dipotassium Glycyrrhizate): Coming from an ancient plant that soothes and fortifies skin, this extract helps to combat sun damage and brighten dull skin.
Marine Collagen: This ingredient improves elasticity and firms and rejuvenates skin for a more youthful look and feel.

FULL INGREDIENT LIST:

AQUA/WATER, GLYCERIN, BETAINE, TREHALOSE, LACTOBACILLUS/SOYBEAN EXTRACT, SODIUM PCA, SODIUM HYALURONATE, HYDROLYZED COLLAGEN, DIPOTASSIUM GLYCYRRHIZATE, PORTULACA OLERACEA EXTRACT, ALLANTOIN, CENTELLA ASIATICA EXTRACT, ALTHAEA OFFICINALIS LEAF/ROOT EXTRACT, ARGININE, LIMNANTHES ALBA SEED OIL, ALOE BARBADENSIS EXTRACT, NEPHRITE POWDER, ROSA RUGOSA FLOWER OIL, CHONDRUS CRISPUS POWDER, CERATONIA SILIQUA GUM, XANTHAN GUM, HYDROXYETHYLCELLULOSE, MICA, POTASSIUM CHLORIDE, POLYGLYCERYL-10 OLEATE, 1,2-HEXANEDIOL, HYDROXYACETOPHENONE
Holistic Benefits

As the Green Jade crystal envelops your skin with its powers of good fortune, know that it's supporting your Heart Chakra or Fourth Chakra, which is located at the center of your chest. Creating harmony within the Heart Chakra promotes an abundance mindset that allows you to recognize the riches contained within and around you. As you enjoy your masking experience, take deep, cleansing breaths, and repeat the mantra "I am Grateful" three times. Set an intention to recognize that everything you're looking for can already be found within.
GEMCLINICAL® TECHNOLOGY

All of our collagen eye masks are made with our proprietary

GEMCLINICAL® Technology

which enables the infusion of effective minerals and gemstones into our masks, maximizing the delivery of all active ingredients into your skin.  

Each biodegradable hydrogel mask is engineered with a triple-helix structure that holds 10 times more nutrients and active ingredients! Once applied, it reacts with your body temperature, creating the perfect environment for the skin-transforming serum to penetrate deeper into the skin for maximum effectiveness. 

FULL INGREDIENT LIST:

Aqua, Glycerin, Algin, Sodium PCA, Aloe Barbadensis Leaf (Aloe Vera), Collagen (Marine/Fish), Elastin, Hyaluronic Acid, Niacinamide (Vit B3), Tocopheryl Acetate (Vit E), Colloidal Gold, Rosa Damascena Flower Oil, Hydroxyacetophenone, 1,2-Hexanediol.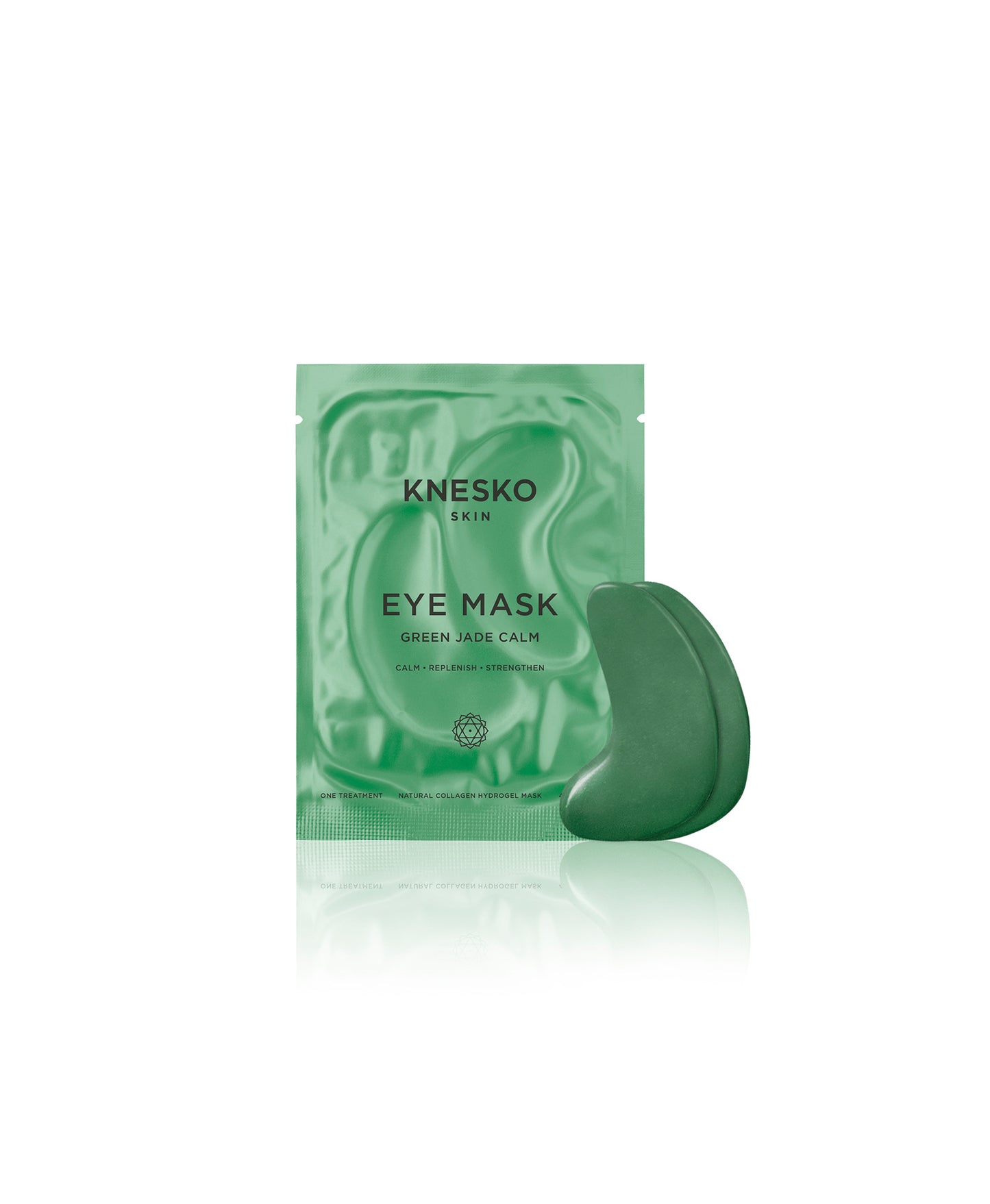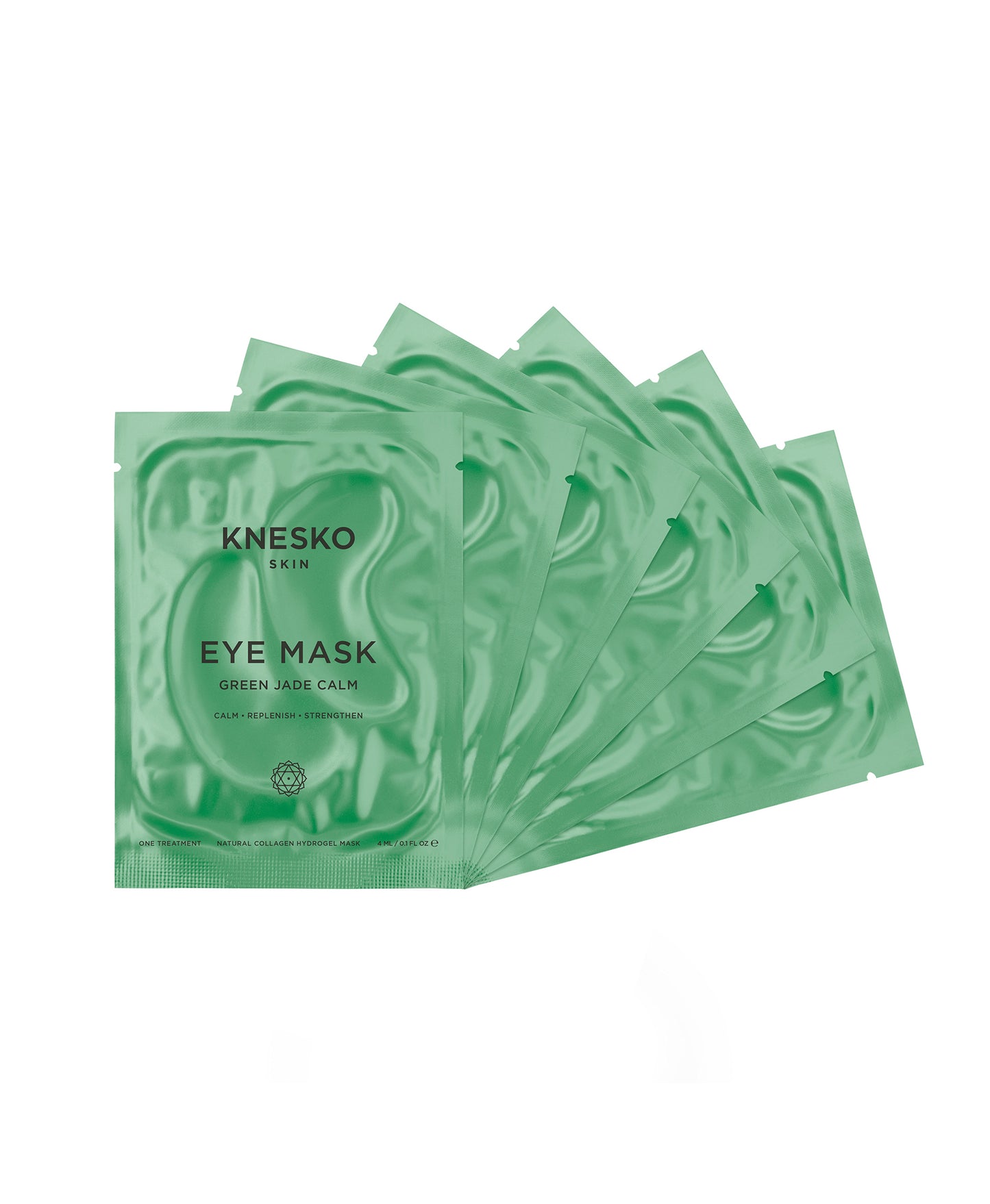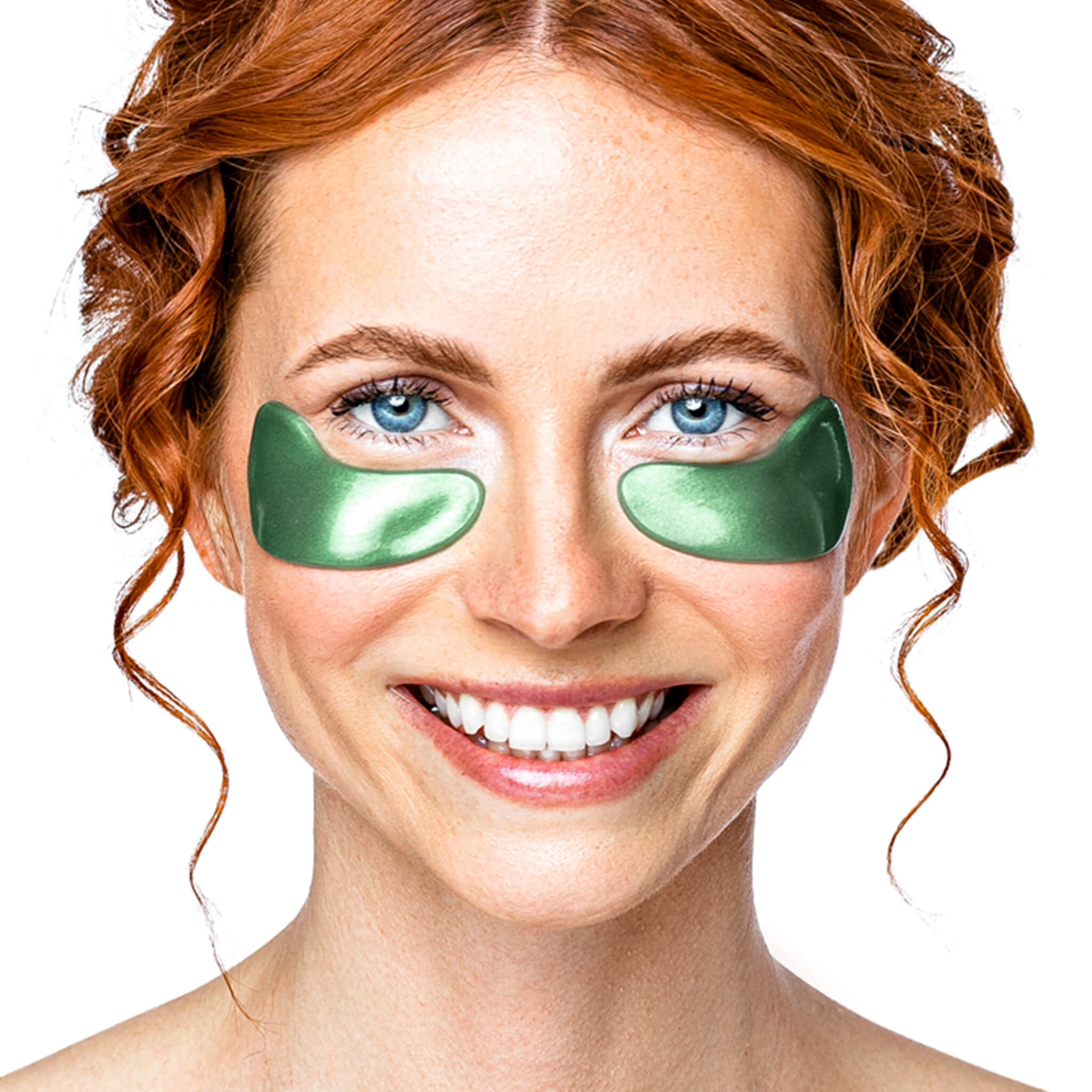 ×
How to Use
Cleanse your skin to remove any traces of dirt, make-up, or lotion. Gently apply each mask to your under-eye area and smooth them against your facial contours. If your mask starts to slide, simply remove it and place it back on its tray. Massage any extra serum into your skin until it is fully absorbed, then re-apply the mask. Leave your masks on for 15-30 minutes to allow the serum to fully penetrate your skin.


×